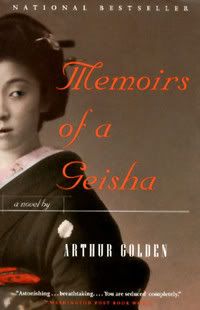 Title:
Memoirs of a Geisha
Author: Arthur Golden
Genre: Historical Fiction
Published: 23 September 1997
Pages: 448
Rating: 9 / 10
This was the first book I chose to read for the
1% Well-Read Challenge
. I have wanted to read this book for YEARS - I can remember being in college and seeing a copy at the bookstore, and I have no idea why I didn't pick it up then. I got my current copy in a
BookCrossing
trade a few weeks ago, but I had to finish another book first (actually, a few books: the literary crack known as
The Twilight Series
and
The Host
), and by the time that I finished I had discovered the 1% WRC and decided to use
Memoirs
as part of that. So it all turned out pretty serendipitously.
Alright, plot:
Memoirs of a Geisha
is a novel about a young girl named Chiyo who is sold by her father to the Nitta okiya, a geisha house in Gion. Her biggest obstacle to becoming a geisha is Hatsumomo, the Nitta's only profitable geisha and Chiyo's first rival. Hatsumomo antagonizes Chiyo and apparently ruins her chances of ever becoming a geisha, but then (spoiler alert!) some other stuff happens, fate intervenes, and Chiyo is able to renew her training and eventually becomes pretty successful. It's an interesting story, and although the ending was a bit too
Chairman ex machina
, I thoroughly enjoyed it.
To be honest, I found the novel a bit daunting at first - the print (at least on my copy) is really tiny, and it seemed like it would take forever to get through. But the chapters were really short, and once I got into the story it was hard to put it down. The premise is that the novel was dictated to an interpreter by a real geisha, and I found it very believable - not that I'm a geisha expert or anything. But the characters are incredible! Chiyo's voice is very realistic, and Golden's writing style is lyrical. I'm a little sad it's his only novel. According to my post-reading researching (Google + Wikipedia), he interviewed several geisha for background information, and was sued for breach of contract and defamation of character by one (Mineko Iwasaki) because he named her as a source in his acknowledgements. She then went on to write a completely different account of life as a geisha (called, appropriately enough,
Geisha, A Life
), which is about to go on my Amazon wishlist.
Next up:
Life of Pi
, by Yann Martel
Other Reviews
:
Kim L